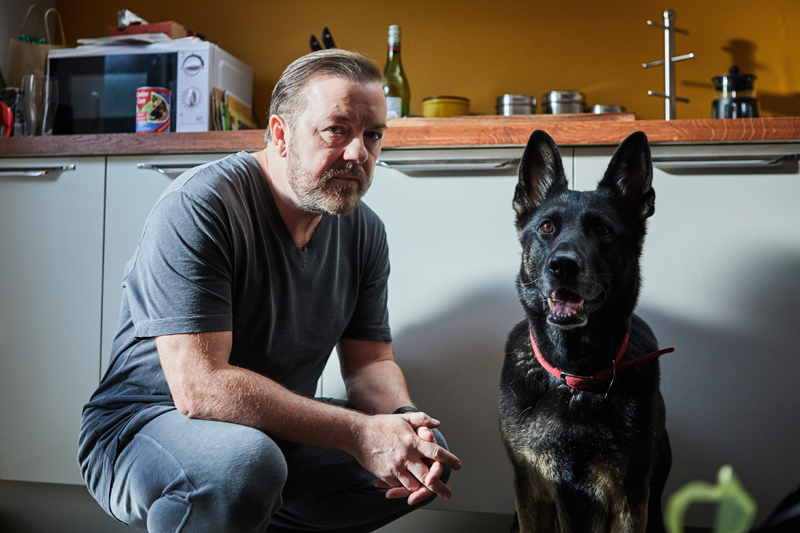 After Life Graded 4K HDR Dolby Vision
Narduzzo Too were delighted to open their new cutting edge, 4k Dolby Vision HDR facility to grade the new Ricky Gervais Series – After Life. "We have been absolutely thrilled with the results and the final look of the show." Vince Narduzzo.
RICKY GERVAIS
"HDR is the latest quantum leap in production. I've never seen any of my work look this beautiful. The first time I saw the grade I was blown away and it actually took me a few hours to adjust. It seemed higher definition than real life. I feel privileged to be one of the first to use it."
MARTIN HAWKINS, Director of Photography
"After Life is a very special series and was a joy to shoot, so going into the Grade, that had to be special too, Vince was just the man to make it so.
We filmed the series on two Panasonic VariCam 35's and a VariCam LT, and not only were the 4K pictures amazing on the new Eizo Monitor, the sound system is even better than before (and for those that know Vince, will know how important 'music while you work' is to him!).
This was my first shoot in 4K, but knowing the experienced eye of Vince would be watching over me, I could relax on location and get on with my job.
Vince is always my first choice to grade my shows.
If there is a sense of respect and belief among the people you work with, that is when the best work is done. Thanks Vince for a great job."
Martin Hawkins
Director of Photography
CHARLIE HANSON, Producer
"We have worked with Vince Narduzzo as our colourist for many years, stretching back to Extras, and have always been happy with the results.
With After Life  we were aiming to deliver a more refined finish for a comedy drama, that didn't have any of the mock/doc feel of more recent work such as Derek or David Brent: Life on the Road. That factor, along with the latest technical delivery requirements, meant Narduzzo and Outpost had to install new HDR facilities at Pinewood.
I'm pleased to say that blessed with filming in the UK during a beautiful hot summer, where DOP, Martin Hawkins, was able to make the most of the summer light, together with Vince's skill in creating the look that Ricky wanted, we are very pleased with the end results."
CHARLOTTE DEAN, Post Production Supervisor
Despite this being the first 4K HDR Dolby Vision delivery for Outpost and Narduzzo Too, we felt in incredibly safe hands with them. At every stage of the post production process – from the initial on boarding to final delivery, the team worked extremely hard, were incredibly conscientious and were always communicative to make sure everything went as smoothly and perfectly as possible. Their great experience and expertise in post workflow really showed and made the experience on 'After Life' an easy one! I look forward to working with them again soon!